THE ESSENCE OF SPAIN
Immortalised in operas and vividly depicted in 19th-century art and literature, Andalucía is the very essence of Spain: a sun-dappled, fiesta-loving land of guitar-wielding troubadours, reckless bullfighters, feisty operatic heroines and Roma singers wailing sad laments. This vibrant and lively region is the perfect backdrop for our brand-new Theatrical Adventure.
Our cruise starts in the enchanting city of Seville and journeys through the heart of Spain, returning to Seville where we will spend an extra night moored within easy walking distance of the city centre.
And of course, we will be taking our outstanding opera singers and guest lecturers and musicians along with us. You can be sure that the entertainment on a Theatrical Adventure is unsurpassed on every level.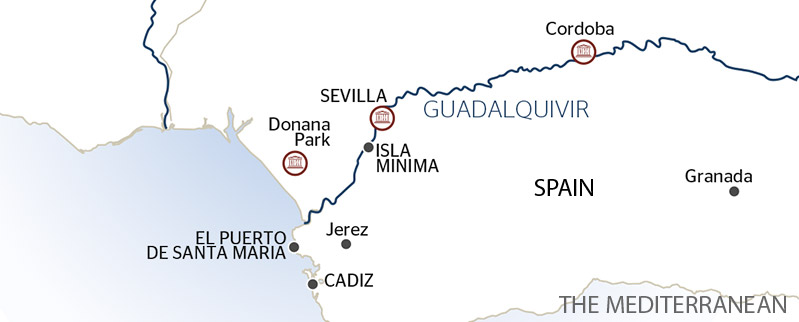 13th November 2022 | SEVILLE
Passengers are welcome to board the ship from 6 pm. After settling into your cabins, we will introduce the crew at a welcome cocktail reception. After dinner, there will be our first evening of Theatrical Adventures entertainment. Performance: 'G and S & G' – Sarah, Phoebe, Richard, David & John
14th November 2022 | CÁDIZ
In the morning, we have a walking tour of Seville. We will visit the magnificent gothic cathedral and discover the Alcazar, one of the oldest royal palaces in Europe. This is the birthplace of the Spanish flamenco, and you can positively hear the swish of a skirt and feel the passionate beat of the music.
After lunch, we cruise towards Cádiz, passing the Doñana National Park, a UNESCO biosphere natural reserve located between the European and African continents and one of the most important wet zones in the area attracting several million migrating birds a year. Performance: 'Mr Flanders, Mr Swann & Mr Lehrer' – Richard & John
15th November 2022 | CÁDIZ - THE PUEBLOS BLANCOS
This morning, we take a guided tour of Cádiz.
We visit Vejer de la Frontera in the afternoon, one of Andalucía's most captivating 'pueblos blancos'. With its Moorish influence, twisting old-town streets and brilliant white buildings, this breathtakingly beautiful town exudes an air of magic and mystery.
Our next stop is the fishing village of Conil de la Frontera. White houses with beautifully decorated patios and walls make the city a must-see for every traveller. Performance: 'From the Sunny Spanish Shore' Flamenco & Quartet
16th November 2022 | ISLA MINIMA
This morning, we will visit the Osborne Bodega and taste the local wines. We leave on foot with our guide for the Bodega, where we enjoy tasting wines and regional products.
After lunch, we cruise to Isla Minima, and visit a typical Andalucian hacienda. We will discover its beautiful architecture and watch an equestrian show in its private arena. Performance: 'A Banquet & a Dance' Quartet led by David Lyle
17th November 2022 | SEVILLE
This morning, we return to Seville and tour the Palacio de las Dueñas. Built in the 15th century, Las Dueñas has beautiful gardens and a lovely arcaded courtyard. After our excursion, we return on board for lunch. Enjoy a free afternoon in Seville,
or, you can join an optional full-day trip to Grenada (departing at 6.00 am and returning around 6 pm).
The tour starts at the Alhambra, one of the major monuments of Islamic architecture and the most majestic medieval fortress in the Mediterranean. The tour concludes with a visit to the Palacio Generalife and its magnificent 14th century gardens. Lunch will be at a restaurant in the town, and there will be free time to enjoy Granada before we return to Seville. (Cost of optional tour £75) Performance: 'In a Contemplative Fashion' – Phoebe, Sarah, Stephen & David
18th November 2022 | SEVILLE
Today you are free to explore Seville and perhaps be tempted to try tapas or visit one of the many outstanding restaurants. Or, in the morning you can join our walking tour of the this wonderful city and discover some hidden gems off the usual tourist track. Performance: Gala Concert and The Pirates of Penzance
19th November 2022 | Departures
Enjoy one last breakfast on board this morning before disembarking at 9:00 am. Performance: No concert tonight. Adiós until our next cruise.
What's included
Complimentary beer, wine and soft drinks with lunch and dinner
Welcome Cocktail Reception
Farewell Gala Dinner and Cocktail Reception
Nightly Entertainment, with our world-class entertainers
Excursions as listed, led by our expert tour-guides
What's not included
Flights or transfers
Personal travel insurance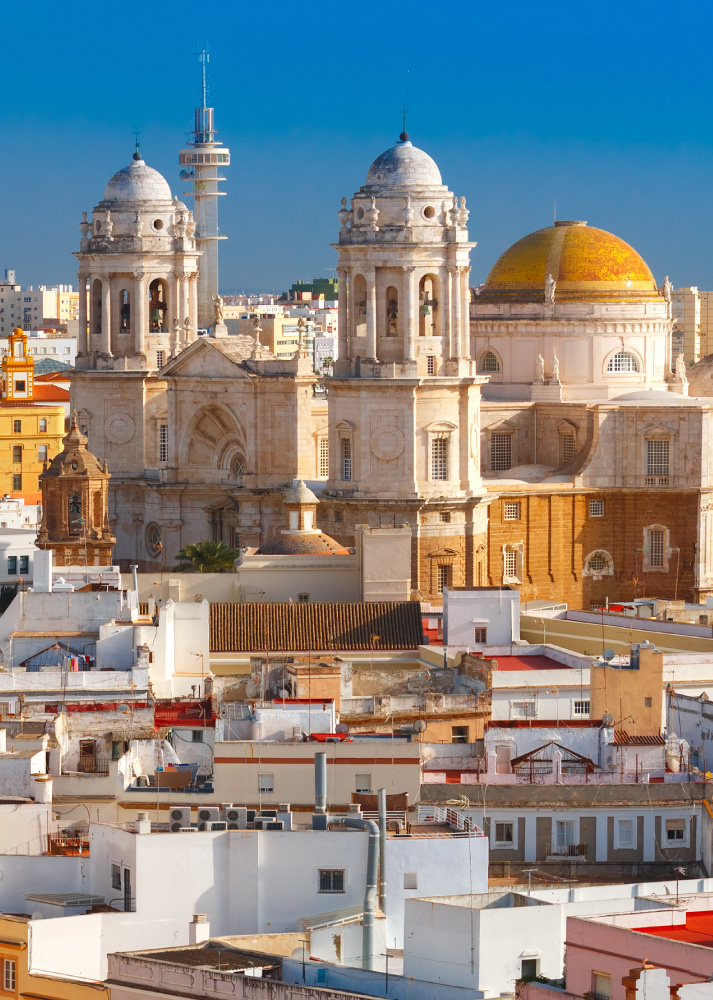 1
Seville
Seville is an exemplary city in Spanish history, as Christian and Muslim cultures have cohabited in veritable peace throughout its past. The Andalusian capital simply oozes joy and liveliness on each of its streets and squares in the old city, and its architecture is testimony to its diverse heritage.
2
Cádiz
The lovely city of Cádiz is tucked between lavish lagoons, sprawling beaches, and rich salt marshes. The city was once inhabited by the Phoenicians and Greeks and has been able to preserve its historic charm among its white walls. The sinuous streets in the medieval quarter contrast the straight and orderly streets found in the Baroque-style area.
3
Los Pueblos Blancos
The Pueblos Blancos in Vejer de la Frontera and Conil de la Frontera is one of the most captivating "white villages" in Andalusia. Every corner seems to be filled with colorful sights and fascinating spots to explore. The coastal town of Conil de la Frontera is the apex of beauty among the Pueblos Blancos. White houses with beautifully decorated patios and walls make the city a must-see for any traveler.
4
Isla Minima
We will visit a typical Andalusian hacienda in Isla Minima, located on the banks of the Guadalquivir River. The hacienda was originally a bull raising ranch. At the beginning of the 1940s, the Escobar family settled across the whole area and founded Finca Isla Minima. It was the ideal location to raise wild bulls and Carthusian horses because of the quality of its pastures. Over the years it has become a model ranch.
5
Palacios de las Duñas
Built between the 15th and 16th centuries, Las Dueñas was named after the former monastery of Santa María de las Dueñas. It has several buildings, courtyards, and gardens. We will tour the stables, lemon-tree courtyard, main courtyard, and Gypsy Hall—which was once the center of social life in the palace. Many of the other rooms we will see illustrate the fundamental activities found in Andalusian culture, including bullfighting and flamenco dancing.
6
Granada
Ringed by the imposing mountainous barrier of the Sierra Nevada, Granada is built across three hills. It's most beautiful treasure, The Alhambra dates as far back as the 9th Century, though its origins are mired in mystery. It is among the finest Islamic buildings in Europe with a fascinating history, waiting for you to discover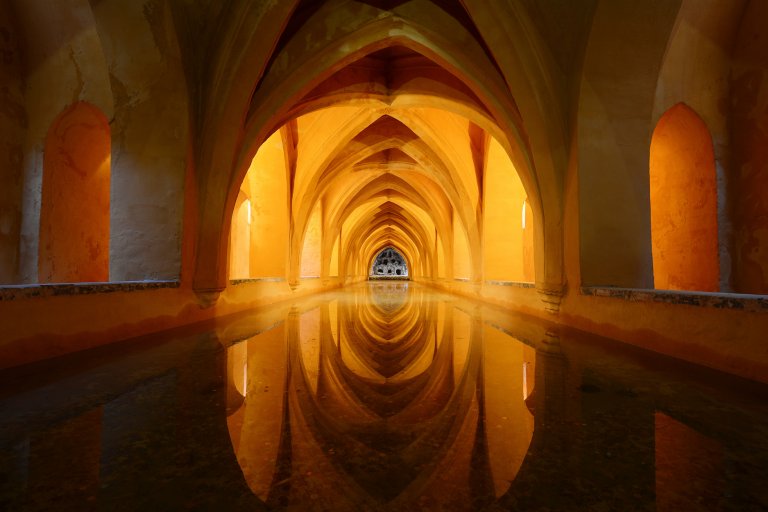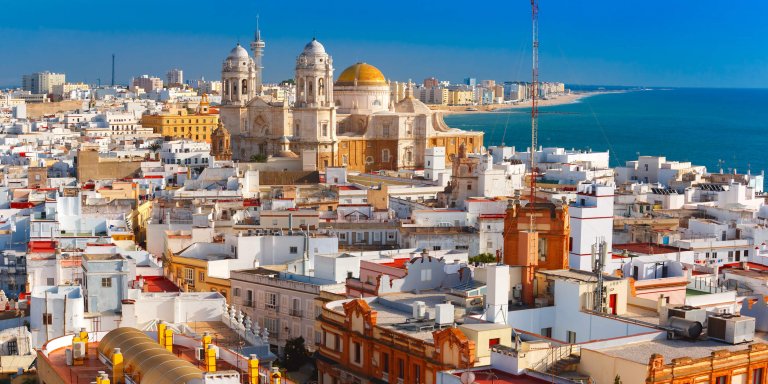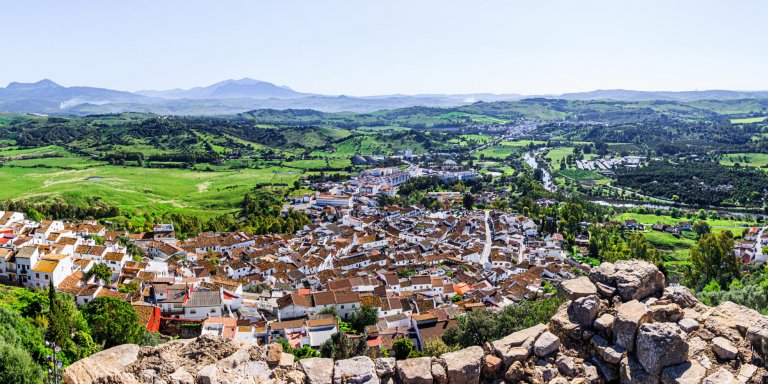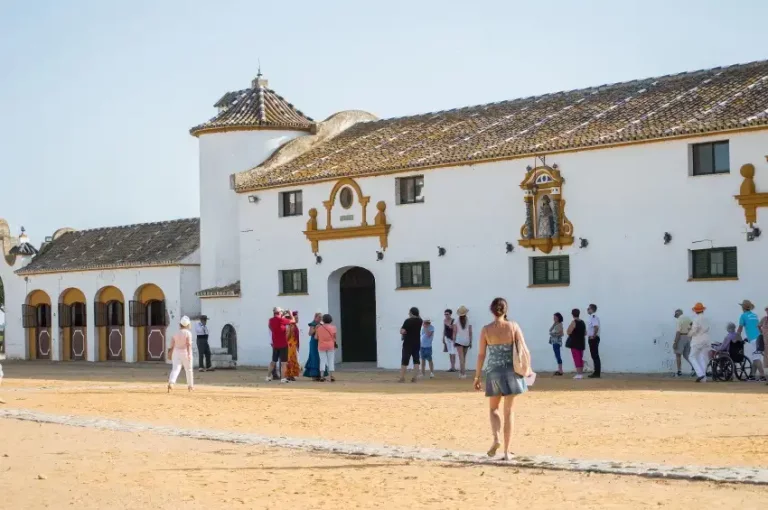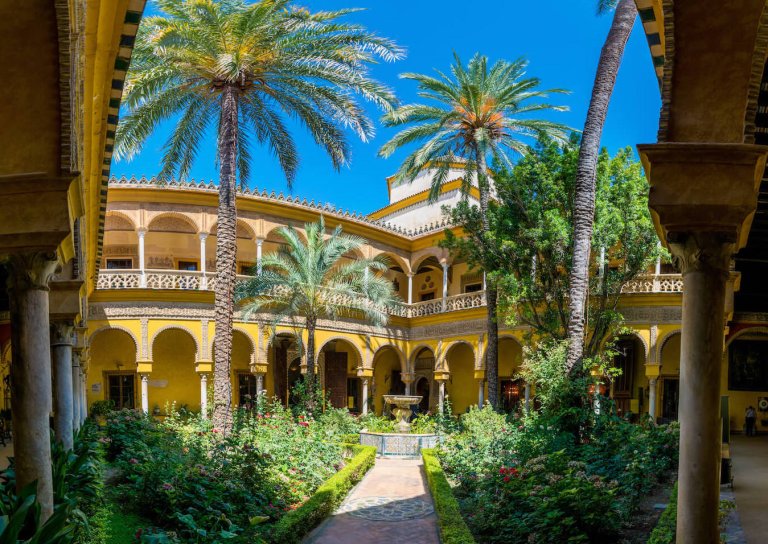 5 -
Palacios de las Duñas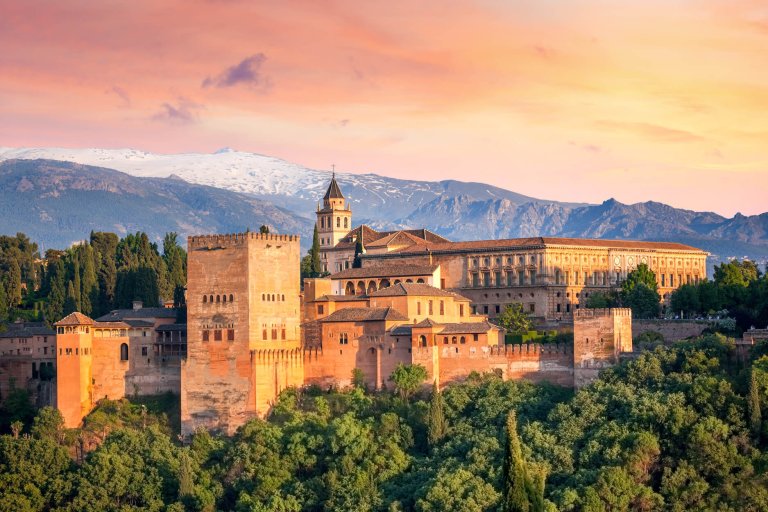 MS La Belle de Cadix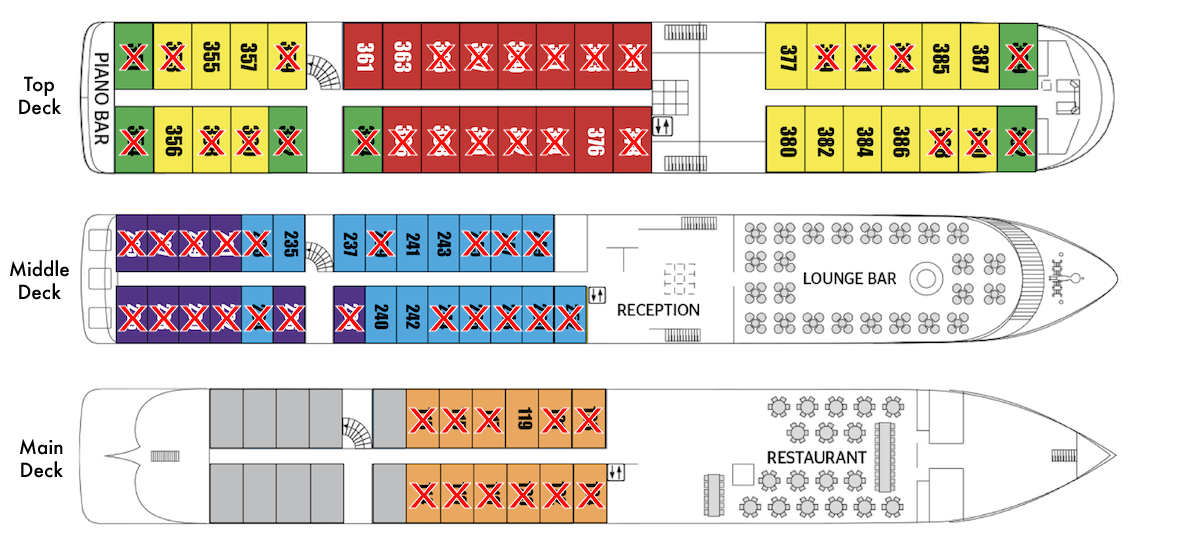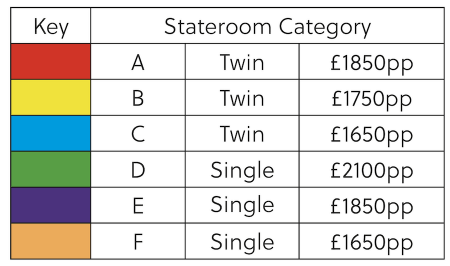 At a Glance
This cruise includes:
Complimentary beer, wine and soft drinks with lunch and dinner
Welcome Cocktail Reception
Farewell Gala Dinner and Cocktail Reception
Nightly Entertainment
Excursions as listed
Excursions
Included:
Walking tour of Seville
Guided tour of Cádiz
Guided tour of the Osbourne Bodega
An equestrian show in is Isla Minima
Tour of the Palazio de las Duñas in Seville
Optional
Full day tour to Granada, included the Alhambra and the Palacio Generalife (Cost £75)
Onboard
Your cabin includes:
TV
Telephone (for internal calls only)
Bathroom with shower and toilet
Towels
Safe
Independent air-conditioning
Electricity 220V, with a standard European two pin socket
Wi-Fi
Please note that there is no laundry service on board the ship – make sure you pack enough socks!
There is a lift between the Main Deck, Middle Deck and Top Deck
Meet your performers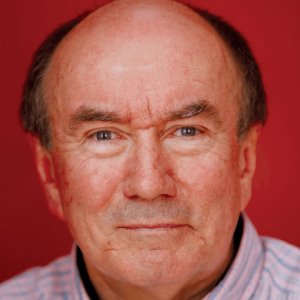 RICHARD SUART
SOLOIST
Richard has sung Ko-Ko in The Mikado for English National Opera since 1988 in Jonathon Miller's celebrated production. He was a member of the D'Oyly Carte Opera Company and has appeared as the Duke of Plaza Toro, The Lord Chancellor and Sir Joseph Porter at the BBC Proms.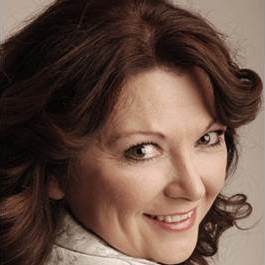 SARAH HELSBY HUGHES
SOLOIST
Sarah hails from Liverpool, and studied singing at the Birmingham Conservatoire of Music. Sarah is a regular soloist for Music Festivals at Sea (for P&O), and also for Theatrical Adventures River Cruises, travelling to many beautiful destinations in Europe and beyond. She has been directing operas professionally since 2008, with over 35 productions to her name.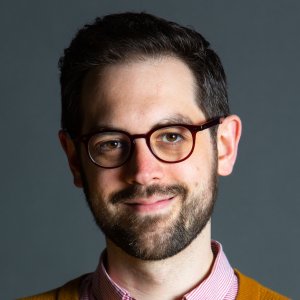 JOHN SAVOURNIN
SOLOIST
John enjoys an established career as an opera singer and director. He recently sang Captain Corcoran, HMS Pinafore, for English National Opera, directed The Pirates of Penzance and HMS Pinafore for co-productions between CCO and Opera Holland Park, and sang Sir Richard, The Yeomen of the Guard, in the recent production at The Grange Festival.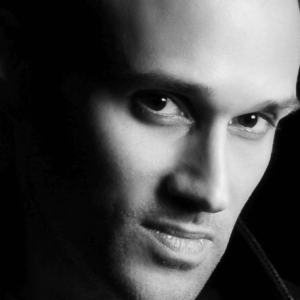 DAVID MENEZES
SOLOIST
David studied classics at St. Hugh's College, Oxford and singing at the Royal College of Music. He has performed with Glyndebourne Festival, Holland Park, Carl Rosa, Grange Park, and the Nationale Reisopera of the Netherlands. David has performed all the leading G&S tenor roles and as many operatic roles with Heritage Opera.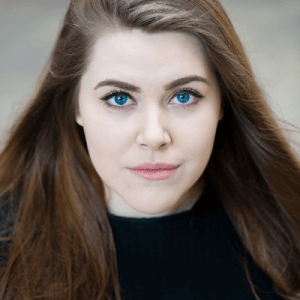 PHOEBE SMITH
SOLOIST
Soprano Phoebe Smith recently graduated her Masters degree from the Royal Academy of Music. Phoebe joined Nevill Holt Opera as an associate artist in their production of La Boheme before performing in the National G&S Opera Company's 2022 tour. Other operatic credits include, Barbarina in Le nozze di Figaro with Hampstead opera and Pamina in the Magic Flute for the Uppermill music festival.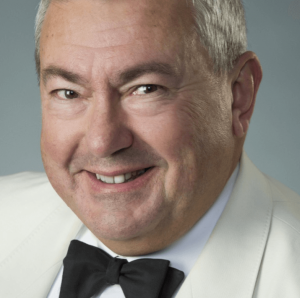 DAVID LYLE
MUSICAL DIRECTOR
Scottish conductor, pianist and arranger, David Lyle, is well known to Gilbert & Sullivan audiences across the UK, both for his award-winning recordings of Sullivan operas and as Musical Director of the Edinburgh G&S Society. David is a winner of the Best Conductor Award at the International Gilbert & Sullivan Festival and is currently Bus Pass Opera's Musical Director.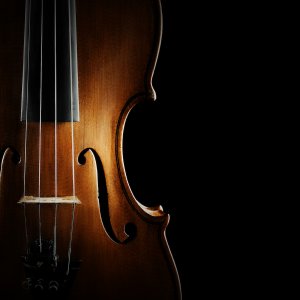 THE THEATRICAL ADVENTURES QUARTET
STRING QUARTET
We are delighted to announce that we will be travelling in style with the Theatrical Adventures String Quartet. Arranged by David Lyle, we can promise a beautiful accompaniment to this wonderful Cruise down the Guadalquivir.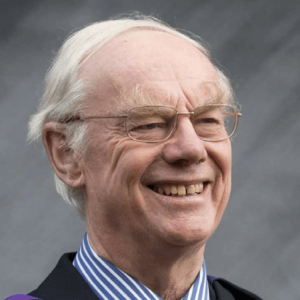 IAN BRADLEY
GUEST LECTURER
Ian Bradley is Emeritus Professor of Cultural and Spiritual History at the University of St Andrews. He is a regular journalist and broadcaster and the author of over 40 books, including several on Gilbert & Sullivan, operetta and musical theatre.